Join Us
For an invitation only event bringing together great internal communications minds to talk about challenges, trends and innovation.
Next event will take place in June 2020
Lurgashall, West Sussex
Email info@barntoboardroom.uk to reserve your place.
Due to the nature of the barn, we have limited spaces which we'd like to reserve for internal practitioners, rather than agencies/vendors. We are unable to offer refunds for places cancelled less than one week prior to the event.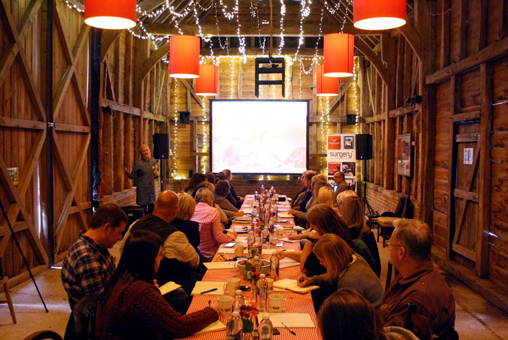 2019 Speakers…
2020 speakers to be announced.
Nathan Wallis
Head of Talent and Culture at Wesleyan
How to love and nurture a social network  Having successfully launched workplace by Facebook, Nathan shares his hints and tips on how to gain commitment within a business to embrace a social network and create employee desire and confidence to use it as a tool to share, learn and collaborate.
Sarah Meurer
Head of Internal Communications at Nestlé and Barn to Boardroom Co-Founder
How IC can support a company culture thrive in times of constant change Sarah will share her experience of how you can make your people feel valued, informed, part of a community and listened to through times of unprecedented and unpredictable change.
Shan Chatoo
Group Head of Corporate Communications at OCS
How Communications can save the planet Shan shares an inspirational story of how she took OCS UK from a standing start when thinking about their environmental footprint, to being a responsible business, making sustainable changes and taking on the plastics challenge facing all of us.
Paul Jackson
Communications & Change Director, Marsh & McLennan Companies
How communications can play a bigger role in bringing businesses together Paul will share hints, tips and lessons learned from several mergers and acquisitions, including integrating the cultures of smaller and niche businesses into a larger global company, and how communications teams can play a bigger role in setting the agenda when bringing businesses together.
Hannah Shepherd
Head of Internal Communications, Virgin Media
Taking video to the next level In today's modern society, media has become a huge part of our world; it informs us, educates us and entertains us which, as communicators, is what we want to deliver for employees. Hannah will be talking about how Virgin Media has taken the use of video and television to the next level as an innovative communications tool for their people.
Based in the Tithe barn on a 60 acre farm in the heart of the picturesque village of Lurgashall, West Sussex. Orchard Park Farm, Lurgashall, Petworth West Sussex GU28 9EU Tel: 01428 707524 FROM THE NORTH / LONDON / GUILDFORD
Take A3 Petersfield/Portsmouth
Take the A283 exit toward Milford / Petworth / Haslemere / A286 / Elstead / B3001
Head south on Guildford and Godalming By-Pass Rd/A283 toward Old Elstead Rd
Continue to follow A283
Turn left onto Cherry Tree Rd/A283
At the roundabout, take the 2nd exit onto Petworth Rd/A283
Continue to follow A283
Turn right
Continue onto Blind Ln
Sharp right before the cricket green
Follow track to the right of Noah's Ark Pub
The Barn is located about 100yards along the track on the left
Parking through the 2nd farm gate on left
FROM THE SOUTH / PORTSMOUTH
Take A3(M) and A3 to Upper Hammer Ln in Hindhead
Continue onto A3(M) (signs for London/Petersfield/Waterlooville/Leigh Park)
Take the exit toward Bramshott Chase
Continue onto Upper Hammer Ln
Turn left onto Woolmer Hill Rd
Continue onto Critchmere Hill
Continue straight to stay on Critchmere Hill
Slight right onto Hindhead Rd/A287
Turn right onto Church Rd/A287
Slight right onto A286
Turn left onto Hogs Hill
Continue onto Old Glebe
Turn left onto Highstead Ln
Turn right onto High Hampstead Ln
Carry straight on past cricket green on your left
Follow track to the right of Noah's Ark Pub
The Barn is located about 100yards along the track on the left
Parking through the 2nd farm gate on left
FOR SATNAV USE Lurgashall GU28 9EU
Claire Widd, Cadent Gas: "Thanks to Carly Murray, Paul Cohen and the team at The Surgery for their fantastic #barntoboardroom event yesterday. It's so easy to neglect your own personal development but events like this, with like-minded IC professionals, are a great opportunity to learn, grow and focus on the things that really matter."
Shan Chatoo, OSC Group: "Huge thanks to Carly Murray, Paul Cohen and The Surgery team for putting together another inspirational event! And to my fellow speakers for their words of wisdom."
Jack Hopkins, Viacom: "Lovely day down in sunny ol' West Sussex, listening to a variety of leaders from a whole host of backgrounds discuss how crucial Internal Comms is to any workplace. Thanks to The Surgery for hosting and serving up the best cheeseburger I've had in ages. #barntoboardroom"
Kate Roberts, Viapath: "Thoroughly enjoyed my first #barntoboardroom event yesterday in the stunning Lurgashall! Lovely to meet so many Internal Comms professionals experiencing similar challenges, thank you to Carly Murray and the team at The Surgery for hosting such an inspirational event."