Join Us
For an invitation only event bringing together great internal communications minds to talk about challenges, trends and innovation.
Just 40 places available for internal communications and engagement professionals.
Wednesday 19 June 2019
1.00pm – 9.00pm
Lurgashall, West Sussex
WordPress database error: [Got error 28 from storage engine]
SELECT t.*, tt.*, tr.object_id, tm.meta_value FROM wp_terms AS t INNER JOIN wp_term_taxonomy AS tt ON t.term_id = tt.term_id INNER JOIN wp_term_relationships AS tr ON tr.term_taxonomy_id = tt.term_taxonomy_id LEFT JOIN wp_termmeta AS tm ON (t.term_id = tm.term_id AND tm.meta_key = 'order') WHERE tt.taxonomy IN ('product_type', 'product_visibility', 'product_cat', 'product_tag', 'product_shipping_class') AND tr.object_id IN (231) GROUP BY t.term_id, tr.object_id ORDER BY tm.meta_value+0 ASC, t.name ASC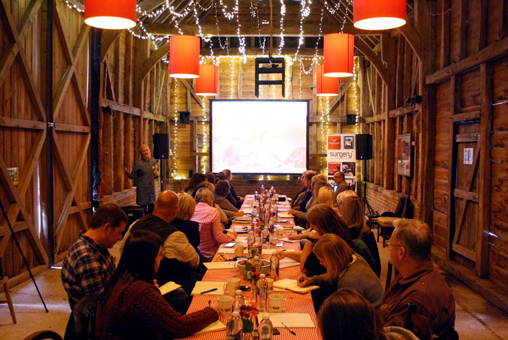 To be confirmed soon
Based in the Tithe barn on a 60 acre farm in the heart of the picturesque village of Lurgashall, West Sussex.
Orchard Park Farm, Lurgashall, Petworth
West Sussex GU28 9EU
Tel: 01428 707524
FROM THE NORTH / LONDON / GUILDFORD
Take A3 Petersfield/Portsmouth
Take the A283 exit toward Milford / Petworth / Haslemere / A286 / Elstead / B3001
Head south on Guildford and Godalming By-Pass Rd/A283 toward Old Elstead Rd
Continue to follow A283
Turn left onto Cherry Tree Rd/A283
At the roundabout, take the 2nd exit onto Petworth Rd/A283
Continue to follow A283
Turn right
Continue onto Blind Ln
Sharp right before the cricket green
Follow track to the right of Noah's Ark Pub
The Barn is located about 100yards along the track on the left
Parking through the 2nd farm gate on left
FROM THE SOUTH / PORTSMOUTH
Take A3(M) and A3 to Upper Hammer Ln in Hindhead
Continue onto A3(M) (signs for London/Petersfield/Waterlooville/Leigh Park)
Take the exit toward Bramshott Chase
Continue onto Upper Hammer Ln
Turn left onto Woolmer Hill Rd
Continue onto Critchmere Hill
Continue straight to stay on Critchmere Hill
Slight right onto Hindhead Rd/A287
Turn right onto Church Rd/A287
Slight right onto A286
Turn left onto Hogs Hill
Continue onto Old Glebe
Turn left onto Highstead Ln
Turn right onto High Hampstead Ln
Carry straight on past cricket green on your left
Follow track to the right of Noah's Ark Pub
The Barn is located about 100yards along the track on the left
Parking through the 2nd farm gate on left
FOR SATNAV USE Lurgashall GU28 9EU