Join Us
For an invitation only event bringing together great internal communications minds to talk about challenges, trends and innovation.
Just 50 places available for internal communications and engagement professionals.
Wednesday 20 June 2018
1.00pm – 9.00pm
Lurgashall, West Sussex
Agenda
12:30 – 1pm arrive
1pm – 5:30pm hear from our speakers
5:30 – 9pm networking bbq and local beer tasting
TICKETS £95 + VAT
WITH ALL PROFITS GOING TO CHARITY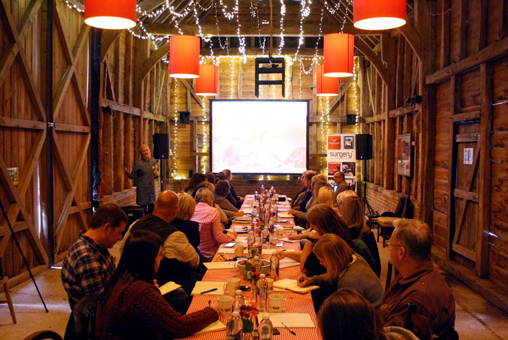 Rufina Magline
Head of Communications and Events - Roche Diagnostics Limited
Crisis, cultural differences and challenges in the Indian Market
Rufina manages the healthcare leader's UK and Ireland businesses, based in Burgess Hill. She joins us from Roche Diagnostics India, where she has been the Head of Communications since March 2015.
Rufina brings to Roche over 17 years of communications experience spanning diverse industrial sectors including financial services, textiles, apparel and FMCG. She is passionate about customer and consumer communication, and in making reputation work for business growth in the long term. Her areas of expertise include brand management, external and internal communications, marketing communication, event management and corporate social responsibility, all of which she currently manages at Roche Diagnostics India.
Debra Corey
Best Selling Author and HR Director
How transparent should communications be
In this workshop you'll roll up your sleeves, push the boundaries, and practice creating open, honest and engaging communication.
Debra is an author, speaker and rebel on employee engagement having spent 30 years as a senior HR professional at global organizations, Debra is excited to have made the move to focus her energy on writing, speaking, supporting and inspiring others in ways to engage with their workforce – her version of paying it forward.
Debra is the co-author of Build it: The rebel playbook for world-class employee engagement, and author of Effective HR Communication. Both books provide practical tools, tips and stories
Marina Christian-Bhonsale
Vice President, Employee Communications – Barclays Bank
Diversity in the workplace and celebrating difference
Marina is an accomplished global communications professional with comprehensive experience on both corporate and agency side. She has a keen understanding of media, marketing and employee engagement dynamics across diverse geographies.
She has delivered high impact communications programmes which have helped manage organizational reputation across Asia-Pacific, Middle East and the United Kingdom. Having started her career on the agency side, Marina managed brand communications for diverse clients in India. Thereafter she managed and led internal communications for Barclays' Information Technology centres across China, Singapore, India and the UK. Through an internal mobility programme, Marina moved to Dubai to establish and manage Internal Communications for the various Barclays Bank entities in the Middle East.
Juliet Earp
Internal Communications Specialist – BP
Communications to support culture change
Juliet is a communications professional with extensive employee communications, change and stakeholder management experience. Currently, leading global communications for a leadership programme and diversity and inclusion at BP Upstream. Recently, established internal communication function at law firm Parabis and led communications for the sale and TUPE transfer of staff to 7 businesses prior to administration. Other assignments include global culture change at HSBC, staff events at HS2 and integration of businesses at London Stock Exchange Group and Friends Life (Friends Provident, Bupa Health Assurance and AXA UK).
Gemma Lacey
Director of Sustainability & Communications – Southern Co-op
Reset. Refresh. Rebrand – Southern Co-op's journey to a "brand new" world
Gemma is Director of Sustainability & Communications for Southern Co-op, an independent regional Co-operative Society owned by its 150,000+members, established in Portsmouth, Hampshire over 140 years ago. Southern Co-op runs 250 community food stores and funeral homes across eleven counties in southern England.
Gemma has over 20 years experience advising and influencing Boards & executive teams on sustainability and responsible business, including John Lewis Partnership, KPMG and The Body Shop.
She is Southern Co-op's executive team champion for sustainability and also leads the Communications, Digital, Marketing and Community Engagement functions. Gemma led the creation and launch of Southern Co-op's new corporate brand last year and is currently leading the business through a programme of digital transformation.
Based in the Tithe barn on a 60 acre farm in the heart of the picturesque village of Lurgashall, West Sussex.
Orchard Park Farm, Lurgashall, Petworth
West Sussex GU28 9EU
Tel: 01428 707524
FROM THE NORTH / LONDON / GUILDFORD
Take A3 Petersfield/Portsmouth
Take the A283 exit toward Milford / Petworth / Haslemere / A286 / Elstead / B3001
Head south on Guildford and Godalming By-Pass Rd/A283 toward Old Elstead Rd
Continue to follow A283
Turn left onto Cherry Tree Rd/A283
At the roundabout, take the 2nd exit onto Petworth Rd/A283
Continue to follow A283
Turn right
Continue onto Blind Ln
Sharp right before the cricket green
Follow track to the right of Noah's Ark Pub
The Barn is located about 100yards along the track on the left
Parking through the 2nd farm gate on left
FROM THE SOUTH / PORTSMOUTH
Take A3(M) and A3 to Upper Hammer Ln in Hindhead
Continue onto A3(M) (signs for London/Petersfield/Waterlooville/Leigh Park)
Take the exit toward Bramshott Chase
Continue onto Upper Hammer Ln
Turn left onto Woolmer Hill Rd
Continue onto Critchmere Hill
Continue straight to stay on Critchmere Hill
Slight right onto Hindhead Rd/A287
Turn right onto Church Rd/A287
Slight right onto A286
Turn left onto Hogs Hill
Continue onto Old Glebe
Turn left onto Highstead Ln
Turn right onto High Hampstead Ln
Carry straight on past cricket green on your left
Follow track to the right of Noah's Ark Pub
The Barn is located about 100yards along the track on the left
Parking through the 2nd farm gate on left
FOR SATNAV USE Lurgashall GU28 9EU